Whether they were famous for their incredible musical talent, acting talent, their genius, or for their dangerous and reckless behavior, they were plumbers. Some of the world's most influential people have fixed pipes, worked in sewers, unclogged drains and may have even stepped foot in your house.
Affordable Plumbing Services in Nashville
So what's all the hype about plumbing? If you met our Nashville plumbers at Plumbing Solutions, you'd know just how awesome plumbers are. We can help you with your affordable plumbing needs in Nashville. Contact us for more information!
But for now, take a look at our Plumbing Solutions blog list of some of the most famous plumbers of all time.
Ozzy Osbourne
Before becoming a rock legend, a young 15-year-old Ozzy Osbourne was actually a plumber's apprentice. School was not his strong suit so he dropped out and went straight to work. It was not until after a few blue collar jobs and a criminal record that he made his music career and became the Prince of Darkness that we all know today.
It is crazy to think that somewhere in the UK is a house that had Ozzy Osbourne taking care of the plumbing. He definitely tops the list of our famous plumbers.
Michael Caine
Next on our list of famous plumbers is Sir Michael Caine. He is an Oscar award-winning actor with over 115 film appearances. He's won 2 academy awards and has had 6 nominations. Not only is he one of the UK's most recognized actors, but he was also a plumber's assistant! After his service in the Korean War and before his acting career, Michael Caine dabbled a bit in some blue collar work.
Alfred was a butler for Batman but got his start in plumbing.
Bob Hoskins
Another actor, Bob Hoskins was well known for his starring role in "Who Framed Roger Rabbit" as well as his part in the movie "Hook". Aside from the fact that he was actually a plumber at one time, he also played the role of Mario in the Super Mario Brothers movie. He definitely makes the list for famous plumbers!
In an interview with Empire Magazine, Bob Hoskins said "I was an apprentice plumber once, burnt the boot of the bloke I was with. I was on a ladder, and he was fixing a pipe up in the ceiling. I got a blowlamp, and set fire to his boot! That was the end of the trade for me."
Joe Cocker
Another musician, Joe Cocker, is well known for several hits throughout the 60's and 70's including the theme song for the show "The Wonder Years", the song "Feelin' Alright", and the song "You are so Beautiful". Yet another great addition to our list of famous plumbers.
Joe actually went to trade school for plumbing and stuck with the profession while he was working on his music career. Joe's mother said "When Joe left school at 16, I thought he was going to take up plumbing as a career. I even got him a lot of books on the subject, and he was interested in plumbing for a time, but there was always the music. That was what he wanted to do."
Thomas Crapper
Contrary to popular belief, Thomas Crapper didn't invent the flush toilet. He contributed greatly to its popularity by selling toilets during WWI. His name appears on manhole covers in England, which have become quite the tourist attraction.
It's believed that the word "crap" comes from the name Thomas Crapper. This would probably make him one of the most talked about people in history.
Sir John Harington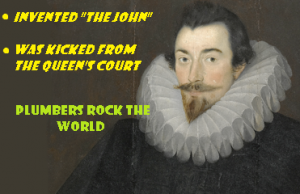 John Harrington is the original inventor of the flush toilet in the 16th century. You may have heard people say that they're going to use "the John", well now you get an idea of where that comes from.
Although John came up with the flush toilet, the concept of having water flush away waste goes as far back as 2600 B.C.!
"Pretty Boy" Floyd
Charles Arthur "Pretty Boy" Floyd is one of America's most notorious bank robbers. He was born in Georgia and robbed banks throughout the Midwest and the South. At one point he was even named Public Enemy No. 1.
While serving time in Missouri State Penitentiary he worked as a plumber's assistant. It was after his release from prison that he built his reputation as one of the most famous bank robbers of all time.
Mario Brothers
Who hasn't heard about this famous duo? Chances are you already knew that these guys are plumbers, which is why they're a bonus on our list of famous plumbers.
The story of the original game is that these two plumbers, Mario and Luigi, investigate the sewers of New York when strange creatures start appearing. A few years later Super Mario Brothers was released, which is the game that takes place in the Mushroom Kingdom.
The first Mario Brothers video game was released in 183, and after over 2 decades these plumbing brothers are still appearing in video games across the world. They are probably the most famous plumbers in the world.
More Famous Plumbers
In the above image we have the following famous plumbers (from left to right):
John L. Sullivan – Son of an Irishman and the first heavyweight boxing champion of the world.
Ronnie Laine – Bassist and founding member of The Smiling Faces.
Lee Marvin – Marine, Oscar award-winning actor, and New York plumber.
Michael Flatley – Irish dancer (we're not sure how plumbing led to dancing).
Arthur Haynes – Comedian and star of the Arthur Haynes Show in the 50's and 60's.
Roscoe "Fatty" Arbuckle – American comic genius and Greensboro plumber.
Zinzan Brooke – Former rugby captain for New Zealand.
Matt Monro – Famous British singer from the 50's – 80's.
Simone DeCavalcante – Mob boss of New Jersey, and plumber.
Charles Dance – British TV and Movie actor, a plumber in the UK.
Joe the Plumber – American conservative activist.
Gabriel Byrne – Famous actor, a plumber in Ireland.
BONUS
Although Albert Einstein was not a plumber, (we would have loved to make him one of our Nashville plumbers) he appreciated plumbers. He was made an honorary member of the Plumbers and Steamfitters Union, A.F.L. (American Federation of Labor) after his famous quote:
"If I would be a young man again and had to decide how to make my living, I would not try to become a scientist or scholar or teacher. I would rather choose to be a plumber in the hope to find that modest degree of independence still available under present circumstances." -Albert Einstein, The Reporter, 18 November 1954
In closing, what does this all mean? Probably nothing! But it's cool to know that some of the world's funniest, smartest, most talented, most reckless, most dangerous, and most creative people were all plumbers. Contact Plumbing Solutions today for affordable plumbing services in Nashville.
Don't forget that April 25th is National Plumbers Day!
Sources:
http://www.empireonline.com/interviews/interview.asp?IID=1879
http://www.encyclopedia.com/topic/Joe_Cocker.aspx
http://en.wikipedia.org/wiki/Thomas_Crapper
http://www.todayifoundout.com/index.php/2010/08/why-the-toilet-is-sometimes-called-a-john/
http://www.midnightplumbers.com/index.php/2009/02/04/pretty-boy-floyd/
http://en.wikipedia.org/wiki/Super_Mario_Bros.
http://sowersplumbing.com/
http://www.midnightplumbers.com/index.php/category/famousplumbers/
http://en.wikipedia.org/wiki/Talk%3APlumber